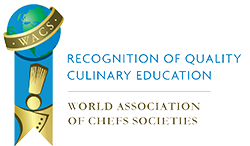 World Association of Chefs Societies
World Association of Chefs Societies(WACS) is a global network of chefs associations first founded in October 1928 at the Sorbonne in Paris. Today, this global body has 93 official chefs associations as members that represent over 10 million professional chefs world-wide. https://www.worldchefs.org/
Since 2011, "ICAS Training & Education College" has been awarded by World Association of Chefs Societies as WACS Recognition of Quality Culinary Education.  This is a prestigious recognition which puts ICASTEC on the world stage based on 12 criteria. https://www.worldchefs.org/Education/School/Twelve-Standards-Of-Quality-Culinary-Education
BTECs have been around for nearly 30 years, recognised in over 100 countries worldwide. They offer progression along a vocational path, from and to academic qualifications and university. The programs provide practical, real-world approach to learning.  BTEC qualifications are developed with key industry representatives and sector skills councils.  In addition, many industry and professional bodies offer exemptions to successful BTEC students for their own accredited qualifications.
https://qualifications.pearson.com/en/about-us/qualification-brands/btec.html
Education Development International (EDI) formed through the merger of the London Chamber of Commerce and Industry Examinations Board (LCCIEB) and a leading online assessment provider GOAL. There are 5000 registered centres in more than 120 countries worldwide.  The range of business-related qualifications are trusted and valued by employers worldwide and recognised by universities and professional bodies.
"LCCI qualifications are widely regarded by employers as preparing learners for key functions of modern international business. Employers, universities and professional bodies recognisethem across the world.
This new and engaging range of qualifications has been developed in collaboration with professional bodies, employers and customers. We have conducted in-depth, independent consultation to ensure that the qualifications develop the breadth and depth of knowledge, skills and understanding that students need to be effective employees, and that the qualifications support progression pathways."
https://qualifications.pearson.com/en/about-us/qualification-brands/lcci.html
Technical Education Australia
Technical Education Australia (TEA) provides Hospitality and event management, and technical programs with highest quality of teachings to help students to achieve their full potential.
Industry Driven teaching staff.
Keep yourself up-to-date with latest skills of success.
Outstanding Education and complete social.