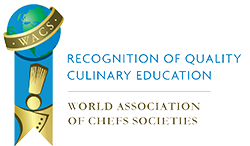 World Association of Chefs Societies
World Association of Chefs Societies(WACS) is a global network of chefs associations first founded in October 1928 at the Sorbonne in Paris. Today, this global body has 93 official chefs associations as members that represent over 10 million professional chefs world-wide. https://www.worldchefs.org/
Since 2011, "ICAS Training & Education College" has been awarded by World Association of Chefs Societies as WACS Recognition of Quality Culinary Education.  This is a prestigious recognition which puts ICASTEC on the world stage based on 12 criteria. https://www.worldchefs.org/Education/School/Twelve-Standards-Of-Quality-Culinary-Education
Education Development International (EDI) formed through the merger of the London Chamber of Commerce and Industry Examinations Board (LCCIEB) and a leading online assessment provider GOAL. There are 5000 registered centres in more than 120 countries worldwide.  The range of business-related qualifications are trusted and valued by employers worldwide and recognised by universities and professional bodies.
"LCCI qualifications are widely regarded by employers as preparing learners for key functions of modern international business. Employers, universities and professional bodies recognisethem across the world.
This new and engaging range of qualifications has been developed in collaboration with professional bodies, employers and customers. We have conducted in-depth, independent consultation to ensure that the qualifications develop the breadth and depth of knowledge, skills and understanding that students need to be effective employees, and that the qualifications support progression pathways."
https://qualifications.pearson.com/en/about-us/qualification-brands/lcci.html
My Global World Group is an international education provided operating in all over the globe. The group own two schools in Switzerland and one school in America.The group consists of a number of companies that directly through ownership or through partnerships with local/international partners in the education industry work to get innovative learning methods and concepts to help evolving the international education industry.
MGW schools allow the students to manage their studies in a flexible manner, using different languages and acquiring practical knowledge, improving their chances to get the best career opportunities.
Our Schools: 
Swiss School of Business and Technology (SSBT) – Sion
International Business School of Switzerland (IBSS) – Zurich
The International College of Hotel Management (ICHM) and Swiss Hotel Association (SHA) Degrees are based on the philosophy that a commitment to excellence, and the finest education and training are essential for those seeking the most sought after management positions in the highly competitive hospitality industry. For more information click on given link https://www.ichm.edu.au/