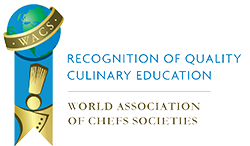 World Association of Chefs Societies
World Association of Chefs Societies(WACS) is a global network of chefs associations first founded in October 1928 at the Sorbonne in Paris. Today, this global body has 93 official chefs associations as members that represent over 10 million professional chefs world-wide. https://www.worldchefs.org/
Since 2011, "ICAS Training & Education College" has been awarded by World Association of Chefs Societies as WACS Recognition of Quality Culinary Education.  This is a prestigious recognition which puts ICASTEC on the world stage based on 12 criteria. https://www.worldchefs.org/Education/School/Twelve-Standards-Of-Quality-Culinary-Education

Italian Chef Academy
Italian Chef Academy mission is to facilitate its students insertion in the world of work, through excellent training paths and apprenticeships in prestigious restaurants.
Throughout a rich program of professional training courses, Italian Chef Academy gives its students the possibility to create personal training paths, able to satisfy everyone's goals.
All Italian Chef Academy  professional courses and the Advanced Courses have been studied to grant a full preliminary professional preparation to rapidly enter in the world of work.
https://www.italianchefacademy.it/en/
WILLING HEARTS
ICASTEC is pleased to be the official training partner of WILLING HEARTS
For more information click on given link https://willinghearts.org.sg/